Our Mission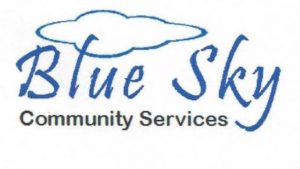 Mission
All people are capable of individual growth when challenged.
All people are capable of earning respect when given the opportunity.
All people deserve the opportunity for inclusion within their community.
Serve the needs of the people inviting us into their lives first, and
 the needs of our organization will follow.
To go shopping, go to worship, work hard, play hard and continually strive for an
 improved quality of life is a need we all have.
It is our mission at Blue Sky to provide these opportunities.
Our Goals
To provide support to the person in need of services in a meaningful and relevant way that will increase their exposure to friendships, jobs and the community. To always remain person centered in our planning and implementation of our programs, customizing each person's plan to fit their specific needs and goals for their life. To create jobs and meet the needs of the people we serve by fusing the relationship to the community of small business owners to provide a customized training for each employee served. To bring community awareness of the productive value that people with disabilities possess. To educate the community, parents/guardians and people with disabilities about advocacy and the nature of disabilities. Continue to develop services for the people served by Blue Sky as the need arises with custom supports for our community.